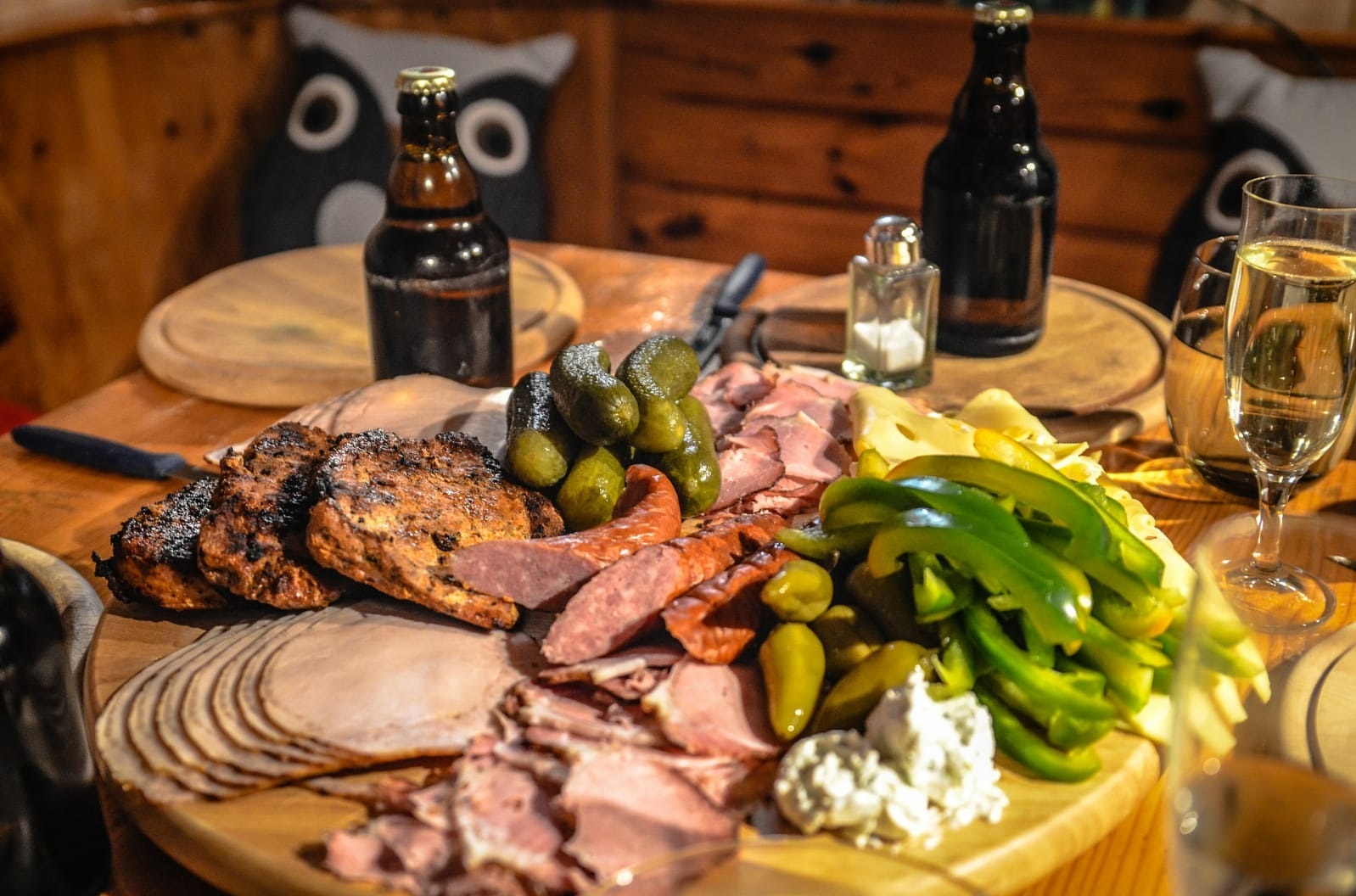 Snacking is an important part of our daily diet routine. Something to munch on in between the meals seems like a casual activity. We often pick up something from the stores like biscuits, chips, chocolates, namkeens, soft drinks, icecreams, cake, processed fried foods, frozen items and eat them mindlessly throughout the day. Ideally your snacking time should be anywhere between 4pm to 6pm during your evening tea time. Snacks can uplift your mood and makes the day instantly brighter. Home cooked snacks are far healthy and tasty as compared to the street or store ones as they are free of additives, preservatives and harmful chemicals. You can also opt for healthier version of ingredients like whole wheat flour instead of all purpose flour when you make snacks at home. But remember that too much of anything is not good for your health. Do portion control while snacking on something for daily basis. Try different kind of homemade snacks to satite your hunger pangs, give you energy boost and keep the metabolism going. Fix a time of the day for snacking. Add some nutritional value to your snack by adding seasonal veggies and fruits to it. Right kind of snacking curb overeating during meal time and thus helps in weight loss as well. Be mindful of the amount, frequency and type of snack you choose to have a healthy balance of fitness and taste. Here we are sharing some yummy snack recipes which are fulfilling and easy to make at home.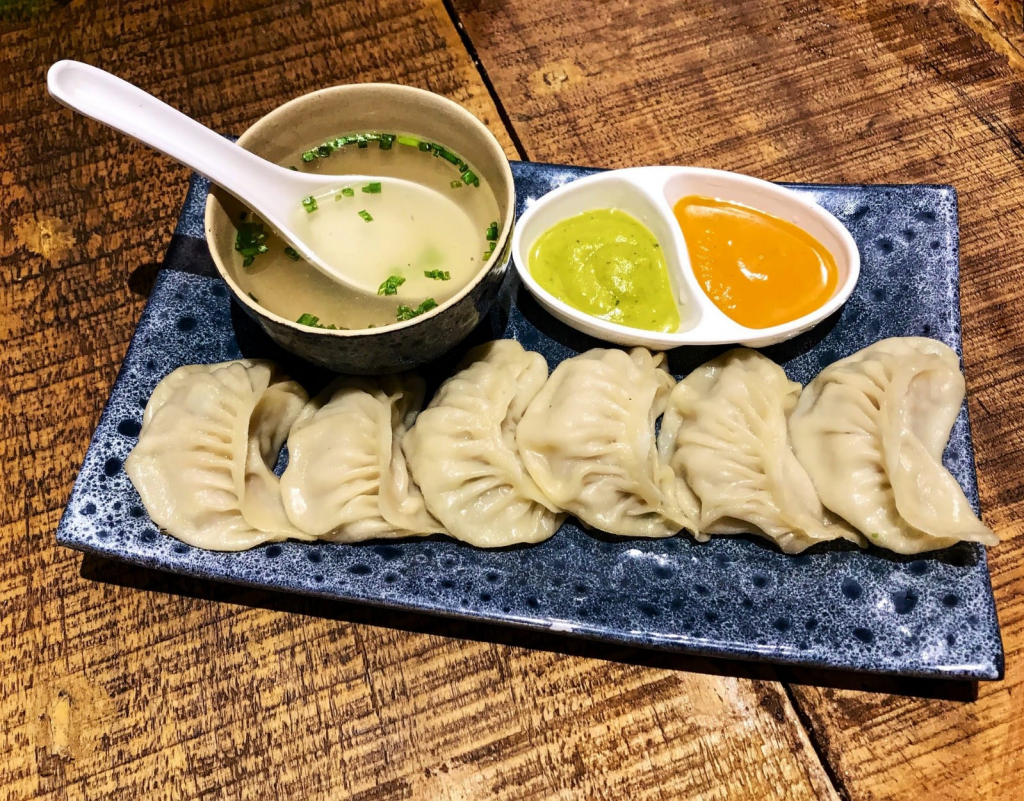 Momos- Momos are soft juicy flavorful dumplings filled with savory stuffing of either veg or non veg. You can steam, fry, bake or toss them in different sauces. They are cherished hot along with a spicy sauce and momo soup. Here we are sharing the basic steamed momo recipe.
Recipe- Mix all purpose flour, salt and oil well, add little water to knead a firm momo dough. Keep the dough covered for 20 mins. Meanwhile, heat oil in a wok, add finely chopped garlic, green chillies and spring onion whites, saute little, now add finely chopped veggies of you choice like carrots, cabbage, french beans, capsicum, bell peppers and saute them lightly maintaining their crunch. You can also add chopped mushrooms, paneer (cottage cheese), minced soya, boiled chicken as per your preference. Finally add chopped spring onions, soy sauce, black pepper and salt, mix and switch off the flame. Let this stuffing cool down completely. Now knead the momo dough once again, make small balls, dust each ball with dry flour and roll as small flatten thin circles of 3-4 inches. Fill the stuffing in the center of the circle, apply water to the edges of the circle, fold, pleat and bring all the edges together to seal as a dumpling. Keep all the momos in a oil greased steamer with proper space between them and steam for 10 mins till they becomes transparent. Serve immediately with spicy chilli garlic sauce.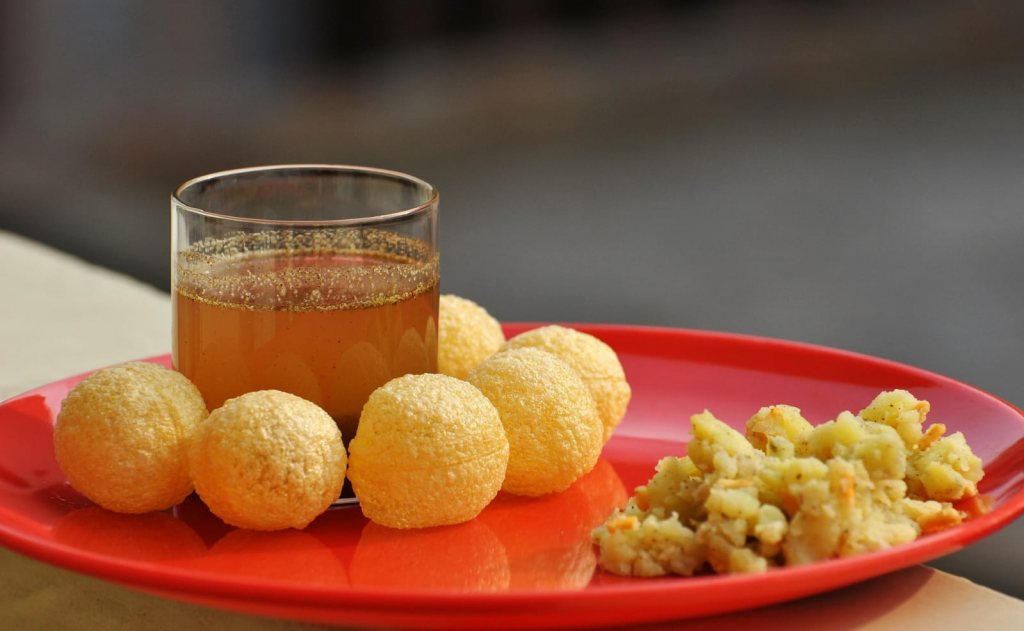 Panipuri- Pani Puri is a famous Indian street food consisting of deep fried crispy dough balls filled with mashed potato, boiled white peas, green Moong etc with tangy spicy flavored water. You get a burst of many flavors eating one Pani Puri at a time. Do note that the puris get soggy pretty fast, so either store them well or fry and have immediately.
Recipe- Mix all purpose flour, semolina, rice flour, salt and warm water and knead a stiff dough, cover with a wet cloth and keep aside for 30 mins. Roll the dough into small balls and deep fry untill round puffed up golden in color, your puris are ready. Now for the filling, mix mashed boiled potatoes with chopped onions, green chillies, chaat masala, salt, coriander leaves, cumin powder, green moong, black salt, boiled chickpeas/white peas. For the spicy tangy water, mixer grind coriander, mint, green chillies, ginger, lemon juice, jaggery powder, salt and some ice cubes. Mix this paste with water, add little tamarind pulp, black salt, red chilli powder, roasted cumin powder, chaat masala and mix well. You can either crack open a puri, stuff with potato filling, dip it in the water mix and pop it in your mouth or crush the puris in a plate mix it with the potato stuffing and top it with the flavored water and more crushed puris for added crunch. Enjoy.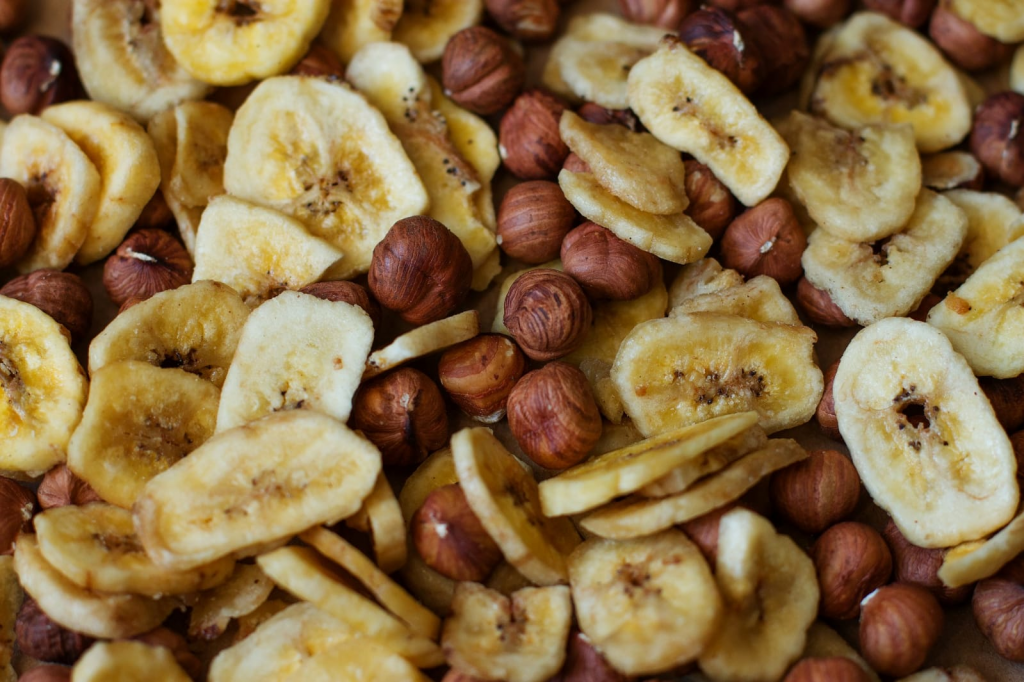 Banana chips- Crispy, crunchy,
Banana chips are super easy to make at home, comes in salted or peppery or spicy red chilli flavors. Banana chips can be deep fried, baked or air fried. You can easily store them in air tight containers and have them whenever you like. They are calorie dense but also have iron, vitamins, potassium.
Recipe- Peel off some raw bananas, meanwhile heat oil in a kadai for deep frying. Use a slicer to slice off the raw bananas into thin slices, wash them in water, remove the water and dry the banana slices using a clean cloth. Deep fry the slices in the medium hot oil. In a bowl mix water with salt, turmeric powder and dissolve the salt completely. The water must taste salty. Pour this salty water one spoon at a time in the oil once the chips start turning crispy. Mix well and fry till the chips once it start changing it's color. Take them out on a tissue paper. Fry the chips in batches. You can season them with little salt, pepper or red chilli powder as per your taste. You can also fry the chips in coconut oil to get the flavour of Kerala style banana chips.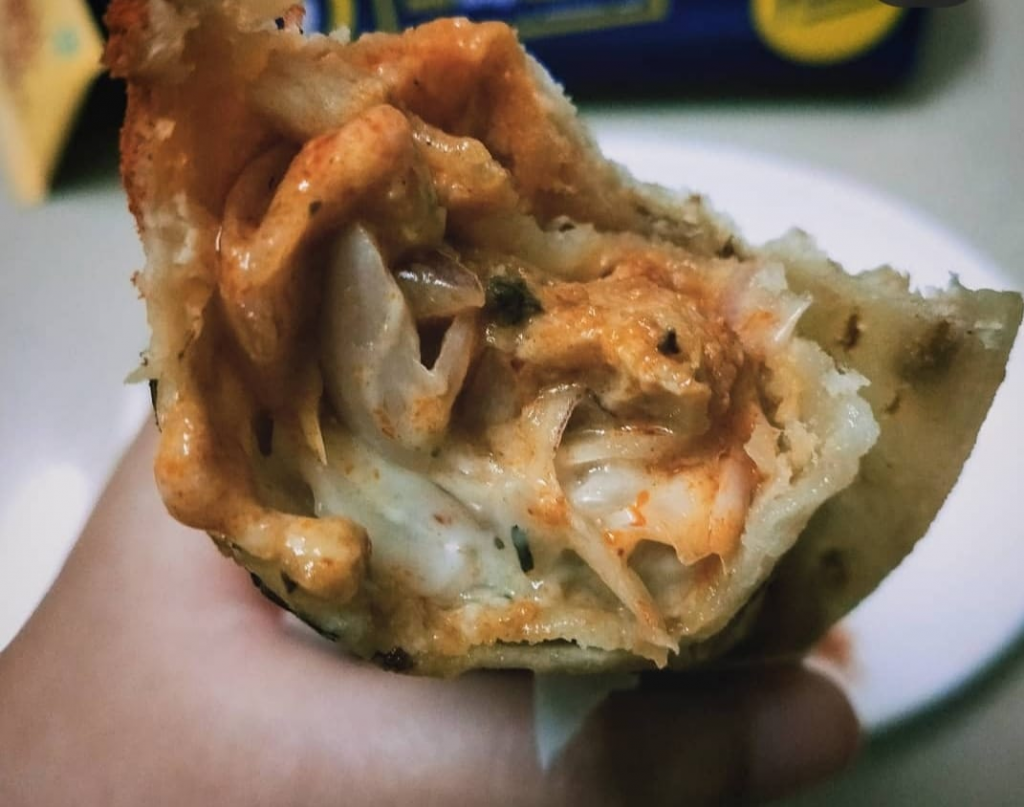 Kathi roll- Kathi rolls are delicious fulfilling fried flaky wraps made with layered paratha filled with kebabs, some chutney (sauce), raw onions etc. It comes in many varieties with eggs, chicken, mutton, paneer, mixed vegetables etc. It is a famous kolkata street food, which you can easily make from the convenience of your home.
Recipe- Mix all purpose flour, wheat flour, salt, oil and knead into a soft dough with warm water. Cover it with oil and rest for 30 mins. Meanwhile, mix and marinate paneer, hung curd, red chilli powder, salt, chopped capsicum, garam masala, dried fenugreek leaves, coriander powder, cumin powder, roasted gram flour, mustard oil and keep aside for 15 mins. Either barbeque the marinated paneer and capsicum on skewers or cook them in a pan with some oil, sliced onions, ginger-garlic paste and tomatoes. The paneer filling is ready. Now take the dough, make equal portioned balls, roll into a large circle, apply a layer of oil on the circle, sprinkle some dry flour on it, start pleating the circle from one edge and fold pleat till the other end. Roll the pleats into a tight circle joining the edges. Rest the dough balls for 10 mins. Now roll the balls into large circles (lachha paratha) again. Tawa fry the parathas both sides with oil. Fry the sides well. Top it with the mixture of eggs, salt and pepper, spreading the egg well onto the cooked paratha, flip over to cook the egg little, flip again and cook the paratha well. Take the paratha, place the paneer filling on the egg side of the paratha, top with chaat masala, black salt, mixed sliced onions, chopped green chillies, lemon, carrot jullienes, ketchup, mint chutney, chilli sauce and wrap into a yummy kathi roll.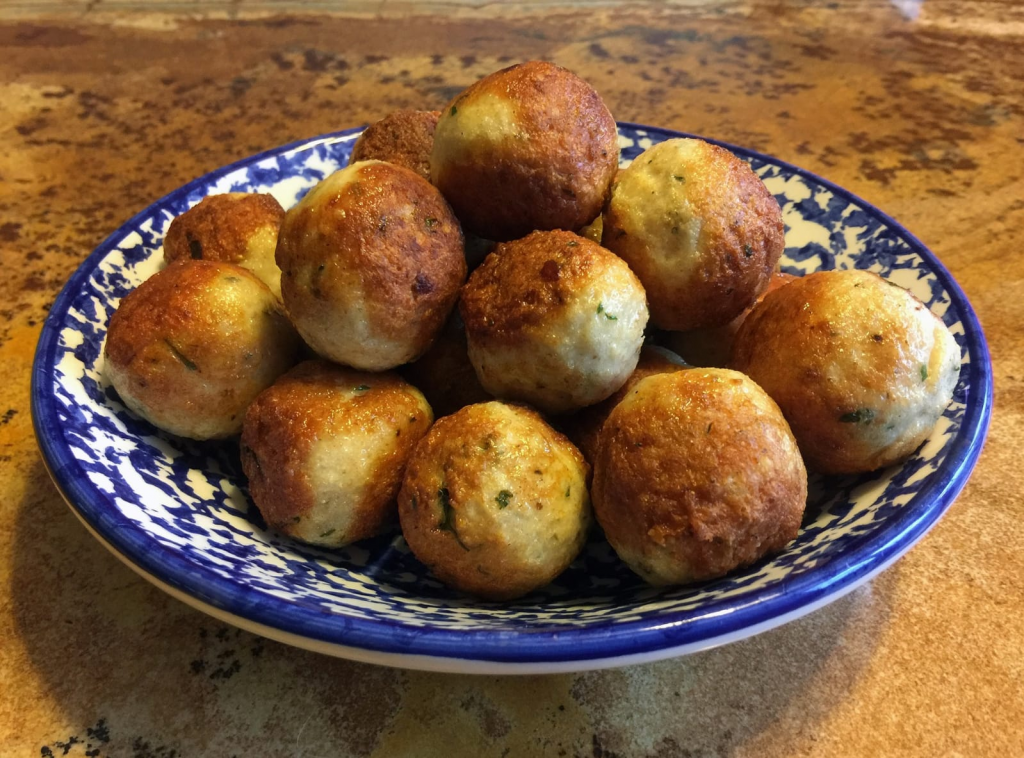 Chicken cheese balls- Chicken cheese balls are protein packed appetizing poppers filled with goey melted cheese. You can get them as frozen ready-made items from any nearby stores. But cook them at home free from all preservatives and equally tasty. You can make the balls beforehand and fry and serve them hot just before your snack time.
Recipe- Grind chicken mince, onions, ginger-garlic paste, dried mixed herbs, pepper, egg, salt in a food processor into a semi solid mixture. In a bowl mix cubed cheese, chopped spring onions, garlic powder, salt, dried mixed herbs and red chilli flakes. Take the chicken mixture, flatten with hands, fill in the cheese mixture in the center and make round medium-sized balls. Coat the balls with dry flour, then dip them in egg white and at last roll them in breadcrumbs. Repeat the full coating process once more and set in fridge for 10 mins. Deep fry in medium hot oil untill golden and crispy. Place the chicken balls on kitchen towel to soak up the excess oil. Serve with ketchup or mayonnaise.
So what are you waiting for? Get ready and cook these super delicious recipes for your next snacking sesh. We are sure you will love them all. Don't forget to drop your feedback or suggestions in the comment section.
"XOX"
-TriGr