Let's take a trip to the city of joy- Kolkata. It is the capital city of West Bengal state in India. The city has a charm of it's own where it is a beautiful amalgamation of the old and the new. The city of art and culture knows how to lend a creative touch to everything. From the grandeur of the colonial architecture to the traditional idol makers quarters, from the classic continental cuisine to the soul satisfying bengali cuisine, from the football madness to awe inspiring literature and films, this city will welcome you like no other. Kolkata brings the blend of all festival, religion, caste, creed, in the most harmonious way. Where the world is running endlessly, Kolkata will offer you a little shade of rest and beauty. Bengali, the native (mother) language is considered to be one of the sweetest language in the world. People speak Hindi and English as well. The city was previously called Calcutta the capital city of British India. You can still witness the reminiscence of British, French, Portuguese, Mughal and Chinese culture in this metropolitan city. Don't forget to travel in the yellow ambassador taxi and rickshaw to feel the real vibe of this poetic city. Here we will take you through a 24-hrs long itinerary with multiple options to make the most of your sojourn in this beautiful city.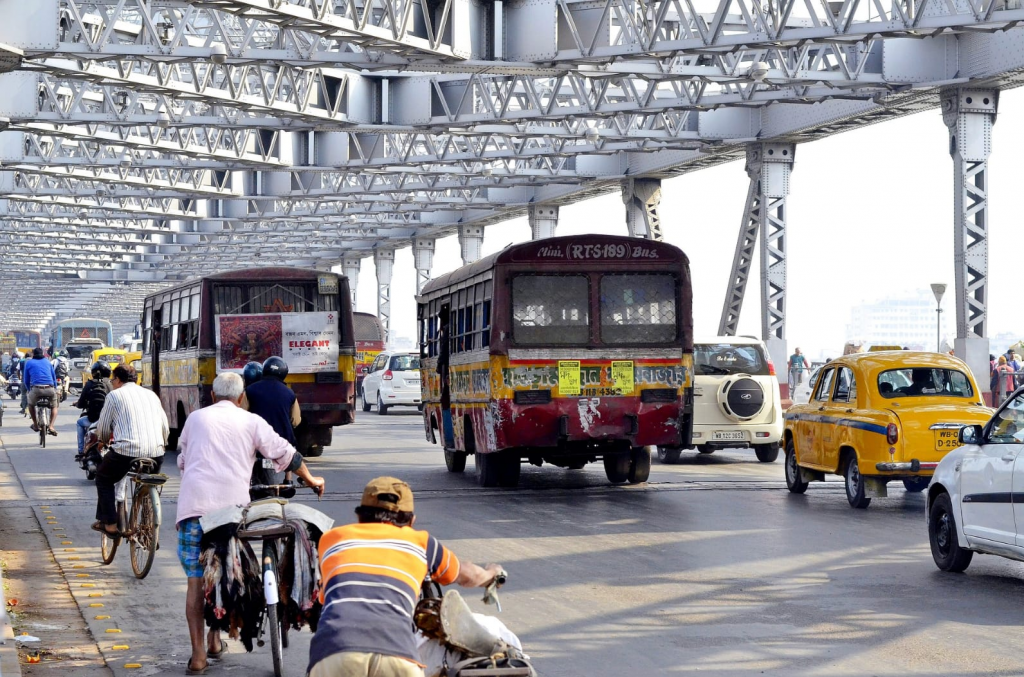 Morning peregrination- You will either arrive at the Netaji Subhas Chandra Bose international airport or at Howrah or Sealdah railway station. From there take a yellow taxi ride to the very popular Howrah Bridge/Rabindra setu over the Hooghly river. It is one of the longest cantilever bridge in the world. The bridge get illuminated at night and looks surreal. You can either take a trip to 130 yrs old Mullick Ghat flower market (one of the biggest flower market in Asia) early morning for an refreshing sensory experience. The place is perfect for insta worthy pics with fresh colorful flowers for each and every frame. Sip some bharer cha (tea in earthern cups with pipping hot kochuri-dal/alur dom (fried flatbread with lentil/potato veggie) from local food vendors around the place. You can also visit the ghats nearby. If you want skip Mullick market as per your preference, and visit Dalhousie square/B.B.D Bagh instead. Dalhousie square is the commercial hub of the city also known as the office para locally, concentrated with colonial styled architecture. Writers' building being it's centrepiece. It is the administrative centre of the city. The area also includes the town hall, royal exchange building, St. John's church, Raj bhavan, tram museum, strand road, millennium park, postal museum, The great eastern hotel. Visit as many places as you like. You can take a break at the Dacres lane for cherishing the iconic street food of Kolkata and have your delicious breakfast along with office goers. You will get malai toast, indo-chinese chowmein, cutlet, kabiraji, kathi rolls, stew, idli-dosa, peyaji and tele Bhaja (fritters), ghughni, fish fry, puri-sabzi, lassi, mango juice. Do visit chittoda's century old food joint to savour some yummy delicacies like chicken stew with bread along with a hot cuppa chai. Here you can do your lunch as well at Suruchee restaurant. Try any fish item of your choice. Once done with breakfast head towards Victoria memorial. Victoria memorial is the largest royal monument dedicated to the Queen of England "Victoria", now turned into a museum having 25 galleries housing vivid paintings from the British raj, surrounded by beautifully manicured gardens, lying on the huge Maidan (Public park) besides the legendary Eden Gardens, one of world's largest cricket ground. Don't forget to try Phuckas and jhalmuri, famous street foods of Kolkata. From here you can take a trip to the Birla Planetarium and St. Paul's Cathedral (Indo-Gothic architecture).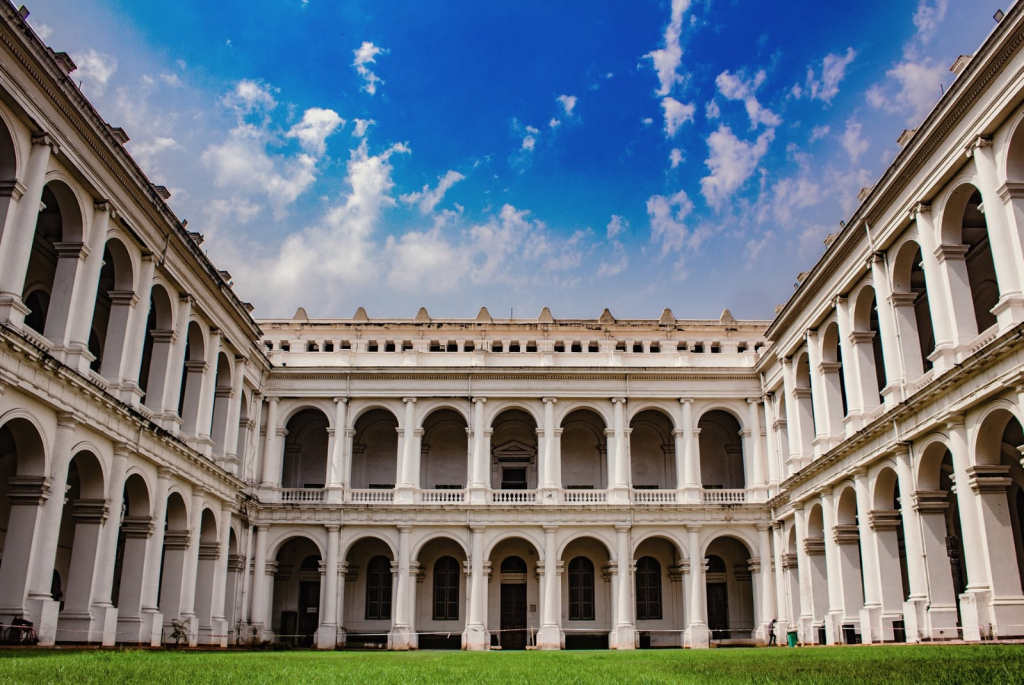 Mid-day exploration- For some Kolkata style street shopping it's time to hop New market or Gariahat market. New Market/Hogg's Market is a huge marketplace selling garments, electronics, accessories, musical instruments, watches, utensils, shoes, bakery items (Famous bakery- Nahoum's), silver jewellery (chamba lamba). You can shop here to your heart's desire, but don't forget to bargain hard and fill your tummy with all the good food it has to offer. You can have your lunch break here at Nizam's, Aaheli, Mugs and shots, Kasturi, Raj Spanish cafe, Aminia, The bhoj company. Look for a Bengali thali ( try chingri bhapa, ilish paturi, beguni, aloo posto, luchi with mutton kosha, betki fry) or Kolkata biriyani to get the authentic taste of Kolkata. Same goes for the shopping paradise Gariahat market, don't forget to pick the famed jamdani/tant/Baluchari/Garad silk/Nakshi Kantha saree for a bengal style makeover. Gariahat market also has many eateries like Bhojohori manna, Kasturi, Roastery coffee house, Casablanca, Chile kotha, Bedouin, KFC. If you are not much into shopping take tram ride from Chowringhee to College Street. College Street, the famous Boi para (Colony of books) of Central Kolkata is filled with nostalgic smell of books coming from every corner of the largest book market of India. Roam here and immerse yourself in the books of your choice. Don't miss the age old Indian Coffee House, the hub of intellectual debates/aada/meeting place over a cup of chai/coffee. This place has historical significance for it's prestigious patrons like Amartya Sen, Satyajit Ray. From College Street you can explore Jorasanko Thakur Bari, ancestral mansion of Poet and First Asian Nobel laureate in Literature, Rabindranath Tagore. It has now been turned into Tagore Museum and Centre of Indian classical fine arts (Rabindra Bharati University). You can also visit many religious places like Dakshineshwar, Kalighat, Belur Math, Birla Mandir, Nakhoda Masjid, Armenian Church, Maghen David synagogue, Gurdwaras, Pareshnath Jain Temple, Bhukailash Temple for a spiritual trip across the city. Also if you fancy, pay a visit to 300 yrs old, Kumurtuli (Potter's colony) famed for it's sculpting prowess. The tiny lanes of the colony is dotted with idols of Hindu dieties throughout the year. You can see the talented artist in their workshops crafting life to clay models with their skill for various festivals. This place has a unique old world charm with mesmerizing art work.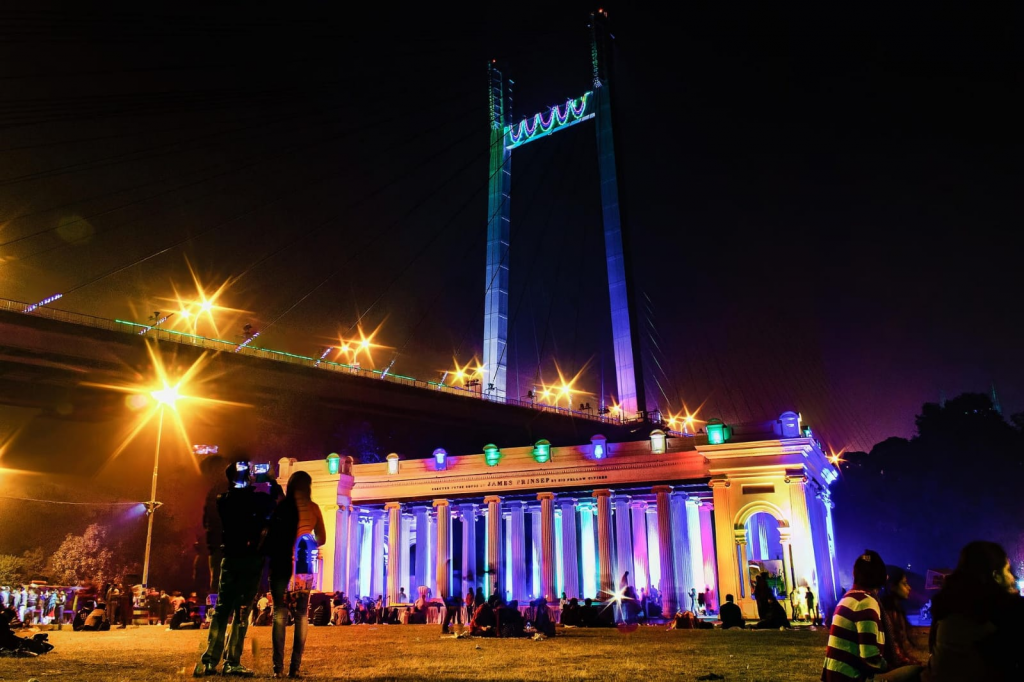 Winding down for the day- Once done with the daytime in Kolkata, slow down towards the fashionable Park Street. Park Street is famous for it's entertaining nightlife packed with fine dining, pubs, restaurants and street food shops alike. Take an evening chai break at the famous tearoom "Flurys" and sip some Darjeeling tea along with amazing pastries and savouries. It's a great place for English breakfast as well. You can finish your dinner at classy vintage restaurants like Peter Cat, Mocambo, The Park Hotel, Charcoal Grill, Tung Fong restaurant to name a few. If time permits visit Princep Ghat along the bank of Hooghly river during sunset-time. Catch the sunset, stroll along the bank or take a boat-ride on the river for a soothing touch to your day. The illuminated Greek gothic structure of the monument of Prinsep with the background of the Vidyasagar setu will surely enchant you for a pleasing finish of your day. You will encounter many street food vendors here. Wind off the day either heading towards the airport or railway station. Before you leave pack some mandatory sweet offerings from the sweet capital of India. Mishti hub, located at New town near the Airport, host more than 10 popular sweet manufacturers of Kolkata, all with quality and traditional sweets of Bengal. Take some Roshogolla from K.C das, Sondesh from Gupta Brothers, Baked roshogolla from Balaram mullick, Mishti doi from Ganguram, Channar Jillipi from Naba Krishna Guin and seasonal picks like Sitabhog, Mihidana, Sarbhaja, Lyangcha.
The city gets a whole new life and transformation during Durga Puja. It has been inscribed on the cultural heritage list of UNESCO in 2021. If you want to witness the grandeur of this festival visit Kolkata to see the most vibrant phase of the city of joy. Untill your visit to this fascinating city, grasp the Bengali lingo "Ami tomake bhalobashi Kolkata"
"XOX"
TriGr