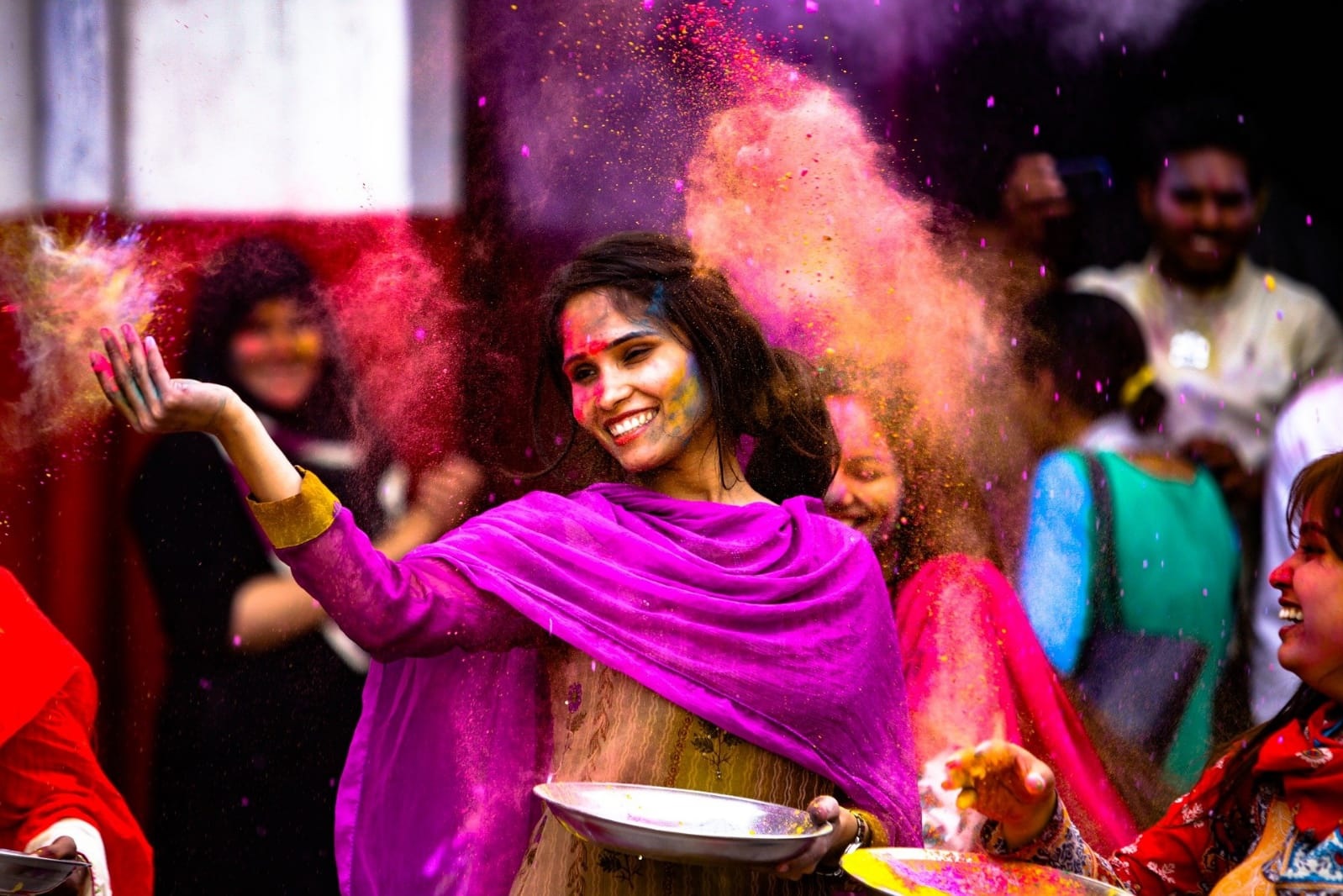 Holi, the festival of colors is around the corner. It is a very popular spring fest celebrated all across India and now worldwide as well, to signify the eternal love of goddess Radha and lord Krishna, the celebration of good over the evil. It is the festival to play with colors (water color, gulal), mend broken ties, laugh and spread the happiness with others. It also celebrates the harvest season of spring. People visit each other's house with colors to socialize, dance, sing and what better way to spread love and merriment than serving guests some homemade traditional delicacies like gujiyas, jalebi, sherbat, namakpare, malpua, samosa, kachoris, gulab jamun the list goes endless. Elaborate dinner follows after the busy day of playing and gathering. Here we are sharing few delectable and appetizing recipes you can add to your Holi menu to greet and impress your friends and family in your Holi party and enjoy the festivities in full vigor, pomp and vibrance.
Dahi vada- A very popular street food, which you can give your own twist by stuffing dry fruits mixture into crispy fried lentil dumplings, topped with tangy yogurt and sweet and spicy chutney combination. Serve it as a tempting snack or add with dum aloo and ghugni (white pea curry) for an added punch of different flavor. Dahi vada are perfect snack for this semi hot spring season.
Recipe- Soak split dehusked black gram lentils and green gram lentils overnight. Grind them coarsely with little water or no water into a thick paste. Whisk the batter well with hands for 10 mins to make it fluffy. For the stuffing, mix chopped green chillies, chopped almonds, chopped cashew and chopped raisins. With wet hands take big spoonful of batter and make round balls and fill the stuffing in the center. Deep fry untill golden brown and cool them a little. Now take some warm water, add asafoetida, black salt, red chilli powder and soak the vadas in it for 1-2 hours. Take the vadas out, squeeze little and top them with chilled yogurt and sugar mixture, roasted cumin powder, black salt, sweet tamarind chutney, red chilli powder, spicy chilli mint coriander chutney and sev.
Rabri thandai- Thandai is a refreshing chilled drink prepared with the goodness of dry fruits and aromatic spices in cold milk. It comes in different variations with prominent flavors of rose, almond, saffron, pistachio, mango etc. This drink act as a great coolant and energize you in no time. Infusing it with thick creamy dessert "rabri" will lend it a rich delicious flavor.
Recipe- For the Thandai powder, make a smooth paste of blanched almonds, pistachios, cashews, soaked poppy seeds, raisins, dry rose petals, melon seeds, fennel seeds, cinnamon, green cardamom pods, nutmeg powder and peppercorn with rose water. You can store this paste in fridge beforehand and mix it with boiled milk to make the thandai later. For the rabri, boil full cream milk and pull the creamy layers to the sides of the pan and continue boiling on low to medium flame till the milk reduces to one third quantity stirring every 2 mins. Now add milk powder and green cardamom powder to reduced milk stirring for 1 min. Add powdered sugar, mix and cook for 1-2 mins. Switch off the flame and cool little. When still lukewarm, scrape the creamy layers from the side of the pan, break and mix well with the thickened milk. Rabri is ready, chill it. For the thandai drink mix prepared thandai paste with saffron flavored boiled milk, sugar if needed, topped with chilled rabri and thin sliced almonds, pistachio, dry rose petals and saffron strands. Chill before serving.
Khus-kiwi cooler- khus-kiwi cooler is another heavenly summer drink to quench your thirst and keep you hydrated all through the day when you are busy running here and there to play with colors and dance your way out. This green colored concoction made from the syrup of khus grass (vetiver grass) roots and kiwi is rich in antioxidants making it not only a flavorful but also a healthy drink.
Recipe- You can either make khus syrup at home or buy ready-made khus syrup from stores. For making khus syrup at home wash the roots and grass of khus well, chop the grass and soak in water for 12 hours and extract and strain the juice from a juicer. Add sugar and heat till the sugar dissolves and the mixture becomes sticky, khus syrup is ready. For the cooler, blend kiwi, mint, lemon juice and black salt. Take a tall mocktail glass, pour khus syrup, kiwi blend, soda or water, chopped kiwi and mint leaves, stir well and serve chilled.
Sondesh gujiya- Gujiyas are fried crunchy dessert usually filled with coconut and dry fruits and dipped in sugar syrup. It can also be made with semolina and wheat flour instead of refined flour and baked for a healthy makeover. In this fusion sweet we will add a chhena/paneer dessert called sondesh inside the gujiyas to give it a unique touch. You can flavor the Sondesh as per your preference like chocolate, mango, caramel etc.
Recipe- For the sondesh, first make chhena by adding diluted vinegar or lemon juice to the boiling full cream milk on medium flame, mix well to curdle the warm milk and strain off the whey using a cloth. Wash the chhena well with cold running water and squeeze all the water from it. Mash it with hands for a smooth soft texture. Add any flavor of your choice, say for chocolate flavor, add cocoa powder along with chopped pistachio, almonds, roasted dry coconut (grated), powdered sugar and mix well and cook the chhena mixture for 3-4 mins on low flame. Take off on a plate and let it cool. For the gujiyas, mix all purpose flour with ghee, salt and knead a stiff dough using milk or warm water. Cover and let rest for 20 mins. Again knead the dough and make small dough balls. Roll each ball into small thin circle dusting with dry flour and take little chocolate chhena mixture as stuffing over one half of the circle and fold the other half over it and seal the edges with little water giving the edges a pressed folded design or fork press the edges. Deep fry the gujiyas in low to medium hot oil till golden and crispy. You can enjoy this yummy dessert for a whole week.
Raw Mango sorbet- A yummy frozen dessert, easy and quick to make in a jiffy. Raw mango is the new added flavor of the spring and what's better way to add the seasonal fruit in it's sweet tangy raw form than this simple preparation of fruit infused sweet water ice. These are top favorites among kids of all age and grown ups can relive their childhood as well enjoying these flavored sorbets. You can also customize the flavor of the sorbet as per your liking and availability of the fruits.
Recipe- Boil or roast (on open flame) the raw mangoes and extract the pulp. Freeze the pulp in ice tray for atleast 3-4 hours or overnight and blend the frozen pulp with jaggery or sugar, roasted cumin powder, red chilli powder, black salt, crushed black pepper and mint till the sugar dissolve. You can add little water to make a smooth blended paste. Add lemon juice and freeze again. You can also use an icecream maker to prepare the sorbet mixing blended pulp along with sugar syrup and lemon. Sprinkle a bit of chaat masala and relish your sorbet.
"XOX"
-TriGr