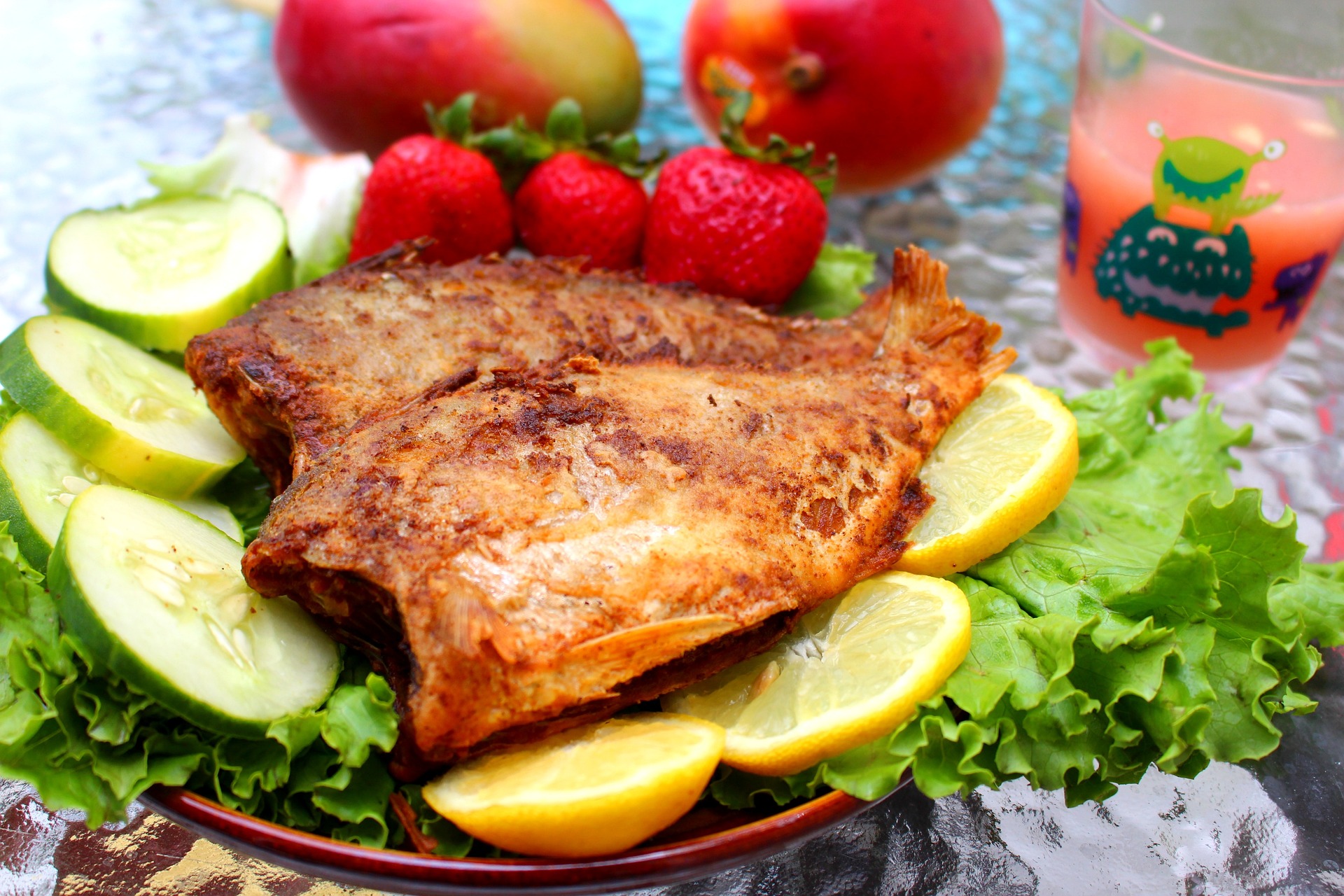 Fish is a nutritious food providing wide range of essential nutrients for the body. It is a rich source of high quality proteins needed for body building and repair work. Fish is an excellent source of Omega 3 fatty acids which acts as an an anti inflammatory substance and improve brain, heart and eye health. It is low in saturated fat and reduce the risk of chronic heart diseases. It is also good source of vitamins such as- vitamin D, vitamin B12 and minerals such as zinc, iron which are essential for maintaining good health. It is also low in calorie which helps in weight management. So try to include at least 2 servings (a serving size of fish is typically 3-4 ounces) of fish per week for a balanced diet and optimal health. Also choose a variety of fishes in your diet to avoid overexposure to any one type of contaminant. Baking, steaming and grilling are healthy cooking methods and avoid overcooking to retain the nutrients in fish.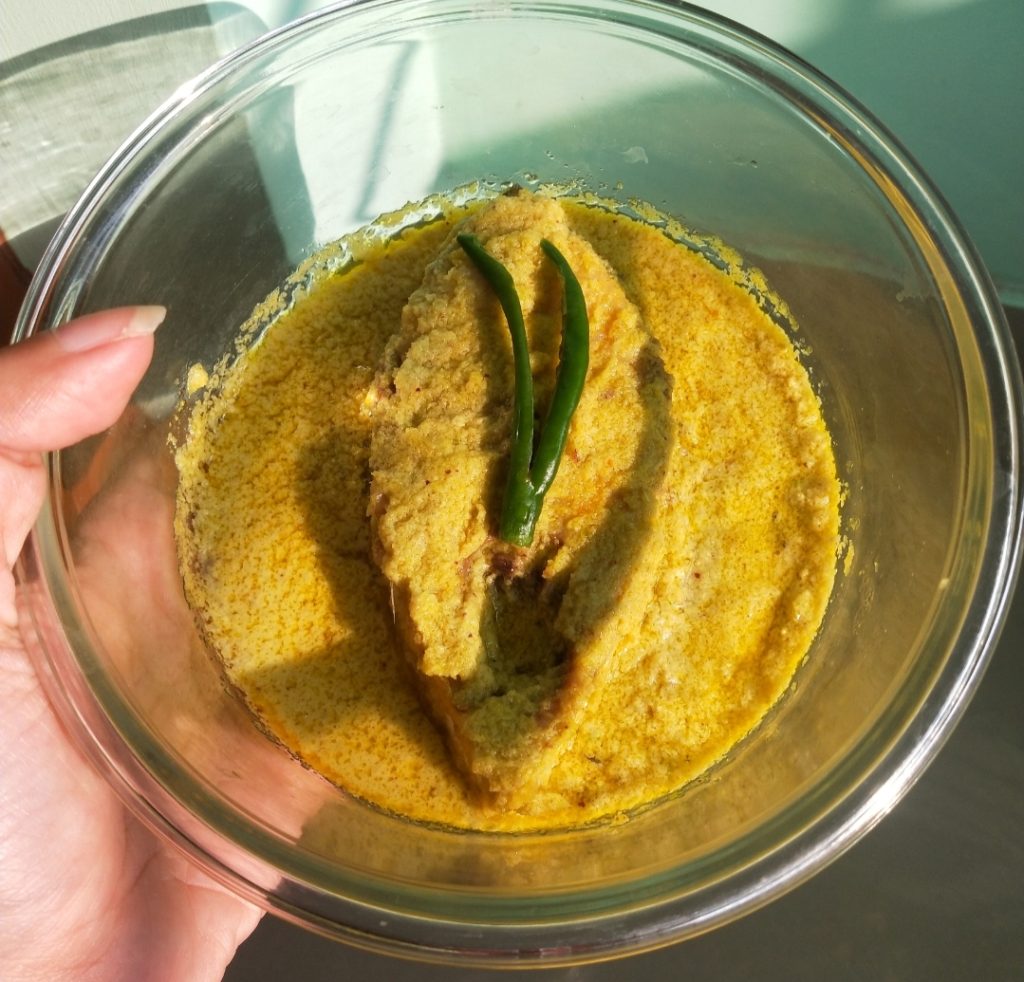 Bengali Fish Curry: It is a traditional Bengali dish that is made with mustard seeds, adding a distinctive flavor and sweet-water fishes like Rohu or Katla.
Recipe- Soak one teaspoon each of black and white mustard seeds together in 1/2 cup water for 30 minutes and grind with little water to make a smooth paste. Heat 2 tablespoons of mustard oil and sauté 1 chopped onion and 2 chopped green chilli until onions are translucent. Add 1 teaspoon turmeric powder, 1 teaspoon red chili powder, and salt to taste and mix well and cook for 1-2 minutes. Now add the mustard paste with 1 cup of water and bring it to a boil. Add 500 gms of fish pieces to the pan and mix lightly to coat the fish with the mustard sauce. Cover cook for 10-15 minutes on low heat. Once the fish is cooked throughly, switch off the heat and let it rest for 5-10 minutes. Garnish with 1 tablespoon coriander leaves and serve the 'sorshe maach' (fish in mustard sauce curry) hot with steamed rice.
Amritsari Fish tikka: Amritsari Fish Tikka is a famous North Indian dish consisting of boneless fish chunks marinated in a spicy and savory mixture, skewered and grilled until golden brown and crispy. The dish originates from the city of Amritsar, hence the name.
Recipe- In a mixing bowl, take 250gms boneless fish fillets, such as cod or halibut or basa cut into bite-size pieces, then marinate it in a mixture of little salt, 1/2 tablespoon ginger-garlic paste, 1/2 lemon juice, 1/2 teaspoon carom seeds , 1/2 teaspoon cumin powder, 1/4 teaspoon asafoetida, 1/2 teaspoon crushed kasuri methi (dried fenugreek leaves) and 1/2 tablespoon mustard oil. Mix everything and keep aside for 15 minutes. In the same bowl, add 1.5 tablespoon yogurt, 1/2 teaspoon red chilli powder, 1 and 1/2 tablespoon gram flour, 1/2 tablespoon rice flour, pinch of turmeric powder, and 1/4 teaspoon garam masala. Mix all, keep aside for 10 minutes. The marinated fish is then placed on skewers with lemon slices and grilled with mustard oil or butter until cooked through and lightly charred.
The dish is usually topped with Chaat masala and served with onion rings, lemon wedges, coriander sprig, mint or tamarind chutney and can be enjoyed as a starter or main course with naan bread or rice. This Tikka recipe is a delicious and savory dish that is perfect for those who love spicy and tangy flavor.
Fish Biryani: This is a delicious variation of the classic biriyani and made with rice, layered with marinated fish fillets, caramelized onions, and fragrant blend of spices like saffron, cardamom, and cinnamon. The dish is cooked in a sealed pot or dum, allowing the fish and rice to absorb the flavor and aroma.
Recipe- Take 1 and 1/2 cup basmati rice, wash and soak it in water for 30 minutes. For the marination of fish, take 3/4 cup yogurt, 1 finely chopped tomato, 1 chopped green chilli, 1 finely chopped onion, 1 tablespoon ginger-garlic paste, 2 teaspoon red chilli powder, 1/2 teaspoon turmeric powder, 2 teaspoon biriyani masala (roasted and powdered mix of cinnamon, clove, caraway seeds, nutmeg, mace, fennel seeds, star anise, bay leaf, cardamom, peppercorns, coriander seeds), 2-3 tablespoon chopped coriander leaves, 10-15 chopped mint leaves, 1 cup fried crispy onions, salt to taste. Mix well. Add 400 gms boneless fish fillets, mix with the marinade and keep aside for 15 minutes. Brush 2 tablespoons of ghee (clarified butter) in a deep pan, top it with a banana leaf to cover the bottom of the pan, add the marinated fish and keep aside for 15-20 minutes topped it with some more ghee. To cook the biriyani rice, heat sufficient water, salt, 2-3 cardamom, 7-8 black peppercorns, 3-4 cloves, 1 broken bay leaf, 1 inch broken cinnamon and 2 tablespoons ghee in a deep pan and bring it to a boil. Add drained rice to the pan and cook for 10 minutes until 3/4th done. Drain the rice and layer it over the marinated fish, top with ghee, saffron water, fried onions, chopped coriander and mint leaves. Cover the pan/pot with a banana leaf and place the lid to seal the pot. Cook on low flame for 10-15 minutes. Switch off the heat and allow to rest for 15-20 minutes. Serve hot with sliced onions, lemon wedges, mint sprigs and raita.
Masala Fish Fry: This is a quick and simple indian recipe, perfect for a weekday dinners. The fish is marinated in a mixture of ginger-garlic paste, red chili powder, turmeric, and salt before being pan-fried until crisp and golden brown. It can be served with a side of lemon wedges and mint chutney.
Recipe- Clean and cut 500 gms of any white fish into fillets or small pieces. In a bowl, mix together 1 teaspoon garlic paste, 1 teaspoon ginger paste, 1 teaspoon red chilli powder, 1/2 teaspoon turmeric powder, 1 teaspoon cumin powder, 1 teaspoon coriander powder, 1 teaspoon garam masala powder, 2 tablespoons lemon juice and salt to taste. Add the fish into the bowl, making sure the masala mixture covers all the fish pieces. Let the fish marinate for at least 30 minutes. Heat 2 tablespoons of oil in a frying pan over medium-high heat, add the fish pieces in a single layer and fry for 4 to 5 minutes on each side until crispy and golden brown. Remove and place the fish pieces on paper towels to soak the excess oil. Serve hot with onion slices, Chaat masala and mint leaves.
Goan Fish Curry: This is a spicy and tangy fish curry from the coastal region of Goa. The fish is prepared in a tomato and coconut-based curry with spices like cumin, coriander, and turmeric. It is typically made with fishes like kingfish, mackerel or pomfret. The dish is finished with a squeeze of lemon juice and is best served with steamed rice or bread.
Recipe- In the frying pan, dry roast 1 teaspoon cumin seeds and 1 teaspoon coriander seeds until they release aroma and grind them into a fine powder. Blend 1/2 cup of grated coconut with a little water to make a smooth paste. In a pan, heat 2tbsp oil and sauté 1 chopped onion until translucent, add 2 chopped tomatoes and 1 chopped green chilli and sauté till the tomatoes become soft. Add the cumin-coriander powder, 1 teaspoon turmeric powder, 1 teaspoon red chili powder, and salt to taste. Mix well and cook for 1-2 minutes. Add the coconut paste, 1 teaspoon tamarind paste, 1 teaspoon sugar, and water as per the consistency of gravy. Mix everything well and let it come to a boil. Add 500 gms of fish pieces and cook until the fish is cooked thoroughly. Enjoy with hot steamed rice.
Shop freshly caught fish, fresh fish have a mild odor, firm with shiny flesh. And try these amazing recipes.
'XOX'
-TriGr