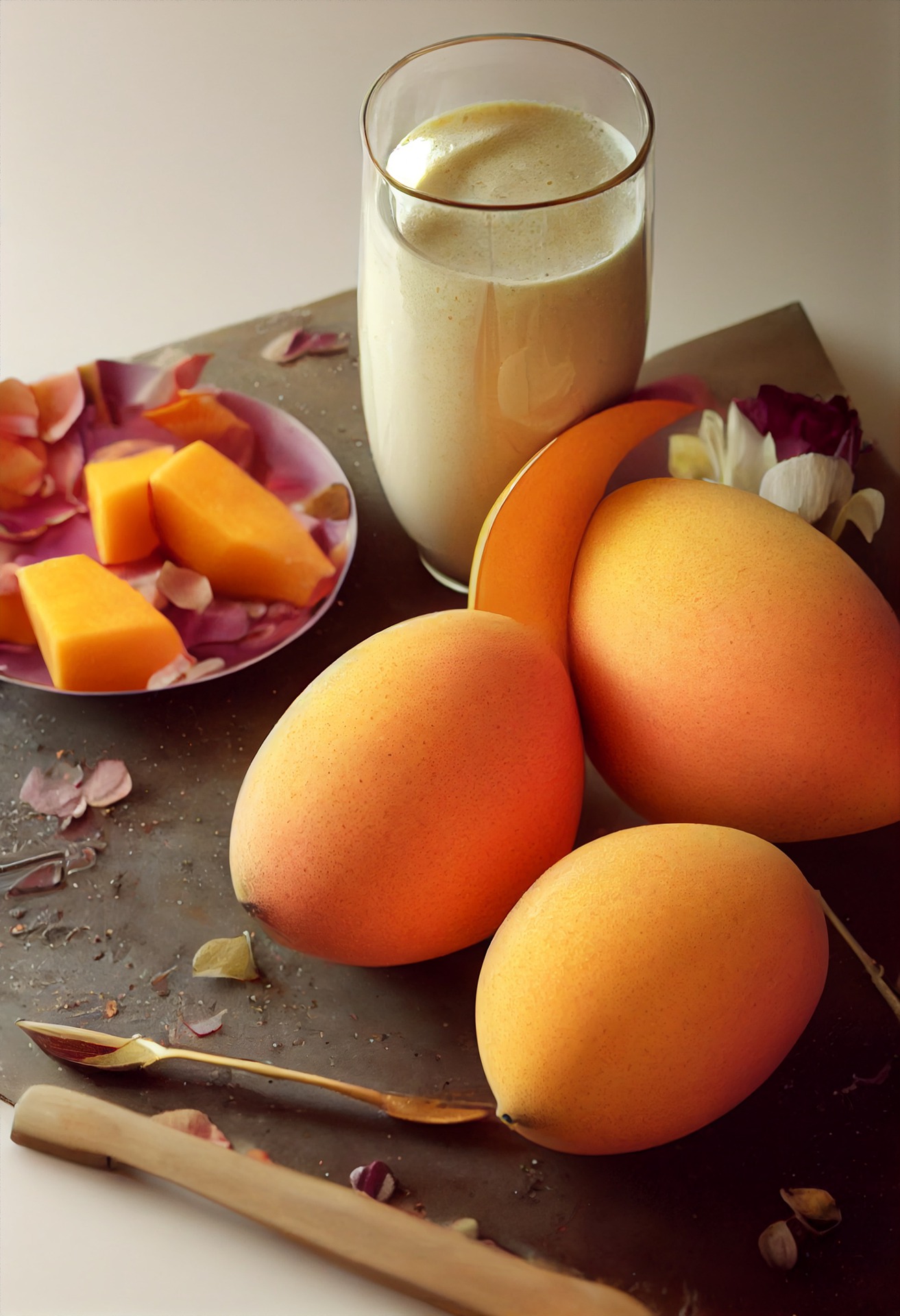 Mango shrikhand- Mango shrikhand is a popular traditional dessert from the Western states of India, Gujarat and Maharashtra. It is usually served as an after-meal sweet or a special summer dessert. It is also known as 'Amrakhand' in India. For giving a fruity twist to the dessert, it is made with mango puree, hung curd or chakka dahi and powdered sugar. The strained yogurt give a creamy texture to this refreshingly delicious dish on hot summer days, and can be easily prepared at home. You can adjust the sweetness according to your taste, depending on the sweetness of the mango pulp.
Recipe- To make 1 cup of hung curd, tie 2 cups of plain yogurt in a cheesecloth or muslin cloth and let it hang overnight or 4-5 hours unless excess water has drained. In a mixing bowl, add the hung curd (chakka dahi), along with 1/2 cup of freshly prepared mango puree, 1/4 cup powdered sugar, 1/4 teaspoon cardamom powder. Mix everything well until it is uniform and creamy. Soak few strands of saffron (kesar) in 1 tbsp of hot milk for 10-15 minutes. Add this saffron milk to the mango mixture and mix well. Refrigerate the mango shrikhand for at least 30 minutes before serving. Garnish it with 2tbsp of chopped nuts (pistachio and almonds) and serve chilled.
Mango Piyush- Mango Piyush is a delicious and refreshing drink, from the state of Maharashtra resembling mango smoothie. It is made from ripe mangoes, yogurt and spices.
Recipe- Blend 1 cup yogurt and 2 tablespoons of sugar together. Add in 1/4 cup of mango shrikhand, 1/4 cup mango puree, little saffron milk, 1/2 teaspoon cardamom powder, 1/4 teaspoon nutmeg powder and blend again. Put ice in a glass and pour the mango piyush. Garnish with some chopped cashewnuts, almonds and pistachios. You can add cold milk to the blend to reach a pouring consistency.
Mango kulfi- Mango kulfi is a popular Indian version of mango ice cream, but more rich in taste and texture. It is traditionally made from ripe sweet mangoes, full fat milk, sugar, fresh cream and some spices. You can use sweetened condensed milk instead of sugar and full fat milk .
Recipe- Combine 2 cups of freshly prepared mango puree with 1 can of sweetened condensed milk, 1 cup of heavy cream, 1/4 teaspoon cardamom powder and a pinch of saffron (kesar), in a large bowl. Mix well. Pour the mixture into kulfi moulds or small plastic cups. Cover the lids or cups with aluminum foil and refrigerate for at least 6 hours or until completely frozen. After freezing, to remove the kulfi, immerse the moulds or cups in lukewarm water for a few seconds. Garnish with crushed pistachios and serve immediately.
Mango pickle- This is a delicious tangy and sweet mango pickle from India, made with raw mangoes, sugar, jaggery, vinegar and spices.
Recipe- First wash, peel and cut the raw mangoes (1kg) into big or small pieces as you desire. These mango chunks are cooked in 1/4 cup of oil, 2-3 pinch asafoetida and 1teaspoon haldi and little salt. After 5-7 minutes lower the flame and cover cook till the mangoes turn little soft. In another pan, dry roast the spices for 2 minutes till they release aroma- 3teaspoon fennel seeds, 2teaspoon mustard seeds, 1/2 inch cinnamon, 2 cardamom, 2 cloves, 1teaspoon cumin seeds and 2 teaspoon fenugreek seeds. Powder this spice mix. Make a syrup of 500gm sugar and 500gm jaggery with 1 cup water. Add this sweet syrup to the softened mangoes, and let it cook on slow flame till the syrup thickens a little. Now add the spice mix, 1teaspoon red chilli powder, 2teaspoon black salt and 2teaspoon rock salt. Cool down the pickle and mix 1/4cup vinegar to it. Store this pickle in a clean airtight container for about 6 months.
This sweet and sour mango pickle can be used as a side dish or as a snack. It can also be used as a sandwich spread or salad dressing.
Mango panna- Mango Panna or aam panna is a cooling summer drink that hydrates the body and prevent dehydration during hot summer months. It is made with raw mangoes which boosts immunity as it rich in vitamin C and aids digestion due to the presence of various digestive enzymes. It is also a detox drink as it eliminates toxins from the body and improves liver function. It is an excellent source of electrolytes such as sodium, potassium and magnesium which are important for maintaining fluid balance in the body.
Recipe- Wash 2 raw mangoes and boil or char them until they become soft. Let them cool and later remove the skin and extract the pulp. Put the pulp in blender along with 1/2cup sugar or jaggery, 1teaspoon roasted cumin powder, 1teaspoon black salt and blend into a smooth consistency with some water. You can adjust the seasoning according to your taste. Pour some of the mixture into a glass, add some ice cubes, ginger juliennes and garnish with mint leaves. You can preserve this mixture with some vinegar, and store it in a clean airtight glass bottle to relish during the summers.
Enjoy the summers with these amazing mango recipes.
'XOX'
-TriGr