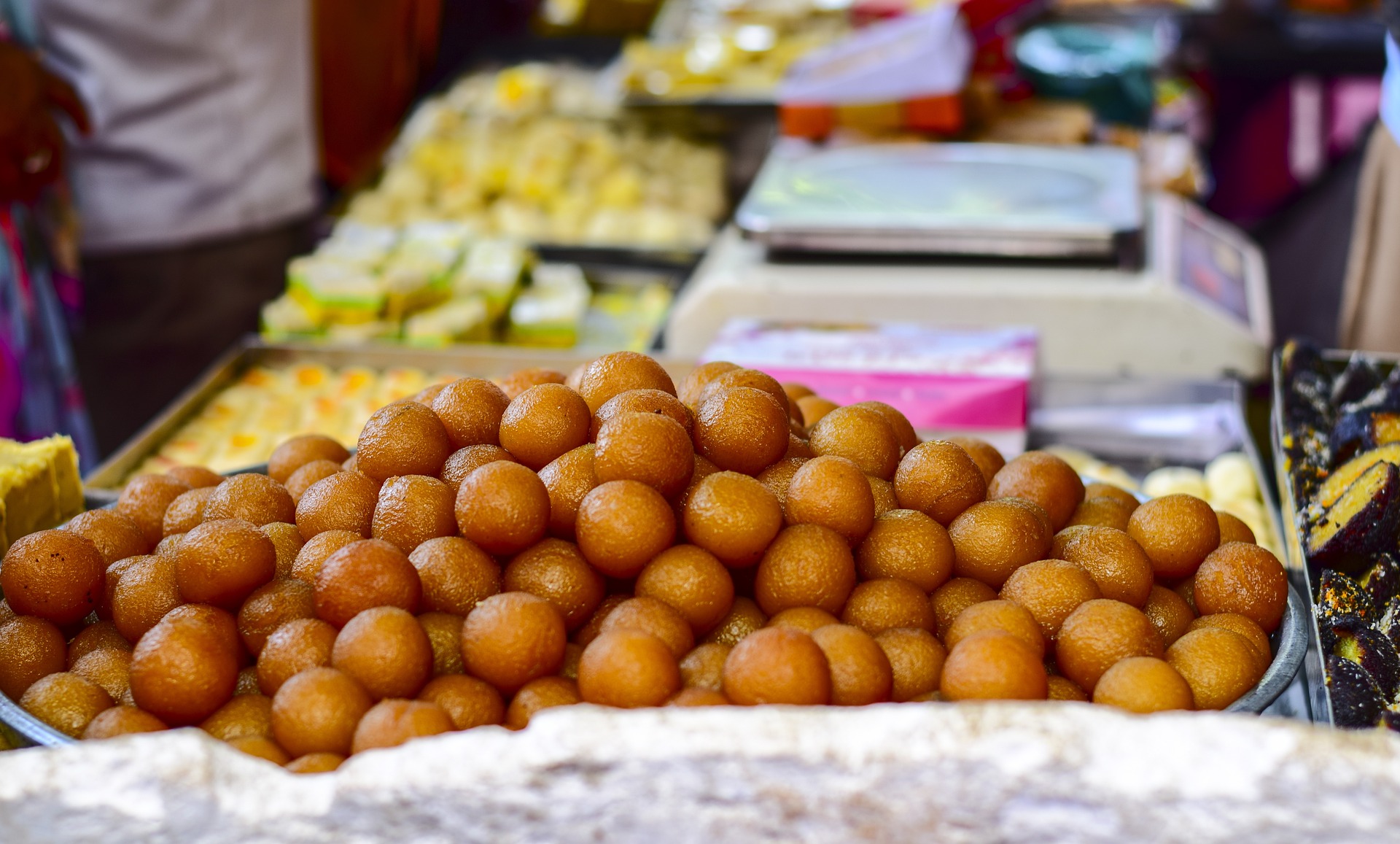 Desserts are quintessential part of Indian cuisine. Mostly these desserts are served post a meal. Indian desserts are known world-wide for their rich flavor and texture and are often prepared with milk and milk products. Nowadays, milk is being replaced in many desserts and fusion desserts are replacing the traditional ones. But here we are sharing three age old traditional recipes which are very popular and are found everywhere in India.
Gulab jamun- Gulab jamun is one of the most popular and delicious dessert in India, prepared from dried milk solids (khoya). Small balls are made from khoya and then deep fried into golden brown balls which are soaked in sugar syrup to give them a sweet juicy taste. Gulab jamuns are usually served warm along with chopped dry fruits like pistachios and almonds or as an independent dessert or as a sweet side dish to other dishes.
Recipe- Take 1cup milk powder, 1/4 cup all-purpose flour (maida) and 1/4 teaspoon baking powder in a bowl and mix. Add 2 tablespoons of clarified butter (ghee) or melted butter and mix well. Gradually add 3-4 tablespoons of milk and work the mixture untill you get a soft and smooth dough. Divide and shape the dough into small round balls of same size. Heat the oil in a deep skillet over medium heat. When the oil is hot, reduce the heat to low and carefully add the dough balls to the oil and try until golden brown cooking evenly, through occasional stirring. Remove the fried balls and drain the excess oil on a kitchen paper towel. Prepare the sugar syrup by boiling sugar and water in 1:1 ratio (for 1 cup sugar take 1 cup water) for 5-6 minutes until it thicken slightly and infusing it with 1/4 teaspoon cardamom powder and 1 teaspoon rose water. Place the fried balls in the sugar syrup and leave to rest for at least 30 minutes. Garnish with chopped nuts (almonds, pistachios) and serve hot.
Kheer- Kheer is a traditional Indian dessert very common in every household. It is a must and go to sweet dish in most of the Indian occasions and festivals. It is also known as payesh, payasam or rice pudding, very simple to prepare. It can be made with rice or vermicelli, boiled in milk and sugar, flavored with cardamom, saffron or other spices and garnished with chopped raisins and cashews .
Recipe- Take 1/2 cup basmati rice or short grain rice like gobindobhog rice, rinse well with cold water until the rice is clear, drain and keep aside. Bring 1 litre full-fat milk to a boil over medium heat in a heavy-bottomed saucepan. After boiling, reduce the heat and bring to a simmer. Add the rice to the pan and cook, stirring occasionally, until the rice is tender and the milk is creamy. Add 1/2 cup sugar and stir until completely dissolved. Add 1/2 teaspoon cardamom powder and a pinch of saffron threads and mix properly. Switch off the heat and cool the Kheer to room temperature. When cold, place it on a serving platter and garnish with chopped nuts like cashew, almonds and raisins. Chill the Kheer for few hours and serve cold.
Kaju katli- Kaju katli is a famous diamond shaped indian sweet prepared with cashewnuts and sugar, served at festivals and special occasions. It is decorated with silver foil (varak) and rich, creamy in texture.
Recipe- Grind 1 cup cashewnuts into a fine powder. In a pan, take 1/2 cup sugar and 1/4 cup water and heat until the sugar completely dissolve over medium heat. Once the sugar dissolve, mix powdered cashew and stir continuously till the mixture thickens to form a paste like consistency leaving the sides of the pan. Now add 1/2 teaspoon ghee (clarified butter) and 1/2 teaspoon cardamom powder to the mixture and mix well. Switch off the heat and cool the mixture for few minutes. Lightly greasing your hands with ghee, knead the mixture into a smooth dough. Place the dough between two sheets of parchment paper and roll it out thinly and evenly. Using a knife or cookie cutter, cut the dough into diamond shapes and place diamond shaped silver vark over each piece of Kaju katli. You can store the kaju katli for over a week in airtight containers.
Try these simple yet amazing recipes and give us your valuable feedback in the comment section.
'XOX'
-TriGr